Agentpoint & Netpoint Group broke records in July for the most site launches each week.
A big shout out to our delivery team.


Orbiton: Pairing fresh designer sensibility and a contemporary, collaborative, bold, personable, open minded work style, Orbiton is driven by Ilario & Michelle's love of helping. For this website build, our skilled designers utilised the brands fresh color palette & our signature design elements to portray a modern image. The homepage has a full size image carousel overlaid with a values statement. From there, visitors are prompted to scroll down the page where they can select "Buy", "Appraisal", "Our Team" as well as check out the Featured Peoperties.
Another strong point of the site is inbound lead generation with the appraisal tool & contact form capturing contact data. The footer also features a strong call to action, inviting site visitors to get in touch. We are excited for this new digital chapter for Orbiton and can't wait to hear of the succes they have ahead.
Nicholls & Co: A boutique modern agency that puts people even before property to add a personal connection and deliver the desired results. The homepage is rich with content which is user friendly for the casual browser.
The homepage has a property search bar built into the top image carousel, recently sold properties, client testimonials, and pop-out video feature the agency is using to showcase their Quarterly Market Report videos.
The core values of the business are passion, determination etiquette and innovation and Agentpoint is happy to help them represent those values through their new website.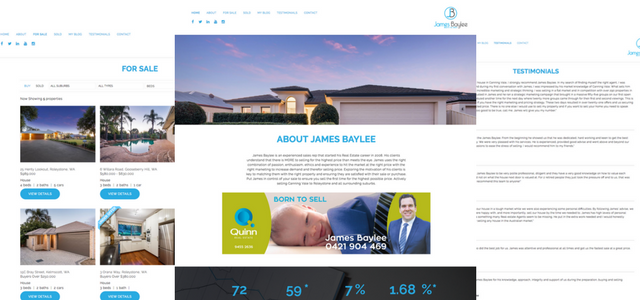 James Baylee: Operating from Canning Vale to Roleystone and surrounding suburbs James has been in Real Estate for almost a decade. James a combination of passion, ethics and experience to place properties on the market in a way guaranteed to get the highest price.
The homepage is a long scroll design with many links to other areas of the site. Some great features on the homepage are a property video, a Social Media widget, testimonials, blog posts, a success map and a contact form.